My dear readers,
How do you dress? Do you dress like a true, Christian lady, or a Woman of the Night?
As KJV only lovely Christian ladies, we are to be holey and set appart, so that when we go to Walmart people will look at us and KNOW that we are KJV only Christians.
Here is how a Woman of the Night dresses: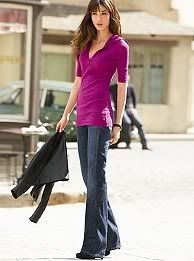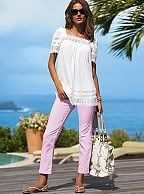 Notice how cheap and tacky a Woman of the Night looks. She has no cents of style or modasty. Jeans and pants also tend to show those bulges and sadlebags on the thighs. :( Not that I've ever had that problam, but I do see that on women who ware jeans and pants all the time. Its not a pretty site, ladies. :?
A true Christian lady will wear a dress like one of these: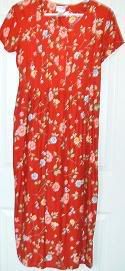 Before I was a Christian, I dressed like a Woman of the Night. But when I became a Christian and read the autherized 1611 King James Bible all the way threw for the first time, God showed me that I had to change my weighs. I didn't realy want two, because I have a vary hot body from working out 6 hours a day and I wanted to show it off. :? T-shirts draw attentian to my purky breasts and jeans draw attentian to my tite ass. I liked the way women looked at me with envy and men staired at me and winked, or smiled, or asked for my phone numbar. (When I was single, I had no problam getting a date. ;) )
But now that I dress like a true Christian lady, I get so much more respect. Men still stair, but it's a look of admaration and not lust. It's sad, because I've had many men confess to me thay wish they're wive's would dress like me. :( Women now look at me with admaration and not envy, and evan aproach me and ask me Bible questions or Christian mothering advise. They can just tell by looking at me that I'm a born-again Christian! (I admit, they also ask me about my excersise reccomendations - I get mistakan for a fittness coach all the time.)
If you are a true Christian woman you would not ware sweatpants and a big T-shirt eather. That is not dressing like a femanine lady, that is being an ugly, slopey frump, and an embaressment to you're sweet hubby. You know that you're soul purpose in life on earth is to please you're hubby. I can personelIy garuentee that he would be daleriosly happy for you to ware any of the lovely dresses above. ;)
Some women say thay can't ware dresses because thay can't work in a dress. But that is just a laizy excuse. If you think it's not possible to do you're work in a dress, hear are some pictures of women working in beautiful dresses:
Vaccuming:
Jogging:
A beautiful, feminane dress can work wanders, hence, I encoarege you to go to Goodwill right now and buy some dresses like the ones above.
Have a blessed day! :)